The Class of 1972 is Turning 50!
To celebrate our milestone reunion and pay tribute to our time at Tech, we're going to help future Jackets with a swarm of support. We're counting on The Class of 1972 to give. Let's show our support of future Jackets and make this milestone reunion one for the ages!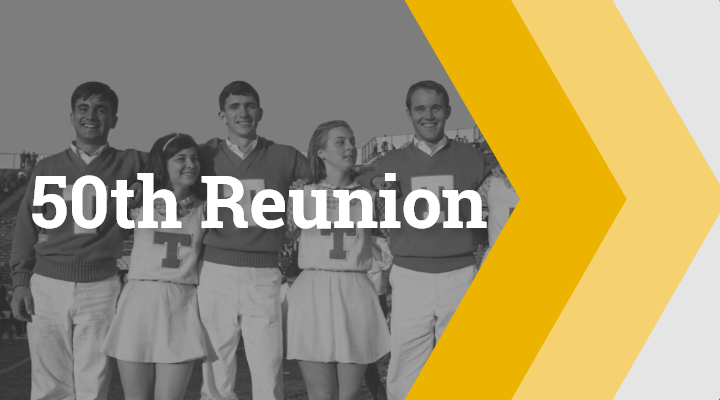 *To access the questionnaire, you will be asked to register or login with your GT Account credentials.

It's your reunion year! That means it's time to catch up with your
classmates in the pages of your new Reunion Class Book.
Learn more about your Reunion Class Book


Dear Friends:
This is our 50th Reunion!  I am excited about this opportunity to celebrate 50 years since our graduation from Georgia Tech.
As chair of the Class of 1972 50th Reunion Committee, I invite you to make plans to come back to Georgia Tech for Homecoming & Reunion Weekend, October 6-8.  Our main objective is to plan a successful reunion for our class.  To accomplish that, we invite you to support our efforts by rallying as a class in support of our goals.  This planning committee will set an overall fundraising goal and engagement goals.  You can support us by coming back to visit Ma Tech in the fall and making a gift of any level to Georgia Tech in honor of this milestone reunion. You will receive more information about our special reunion plans in the near future.
Homecoming & Reunion Weekend is a long-standing tradition at Georgia Tech.  Our class will come together to celebrate this momentous occasion with numerous activities for you and your family to partake in during the weekend.  On Thursday evening, our class will have our reunion party in the ballroom of the GT Hotel & Conference Center.  On Friday, there will be the President's update and a host of campus tours and seminars.  That evening, our class can party with the rest of the reunion classes at Buzz Bash in the Exhibition Hall.  On Saturday, there will be the numerous GT traditions events for you and your family to enjoy including the Ramblin' Wreck Parade, the Ramblin' Wreck Rally Tailgate on Tech Green and the GT football game. Registration for these events will be available in August.
I am really looking forward to celebrating our 50th Class Reunion and I hope that I will see you at our class reunion party on October 6th.  A helluva good time will be had by all as we toast each other in celebration of our class commitment to 50 years of progress and service for Ma Tech. 
Go Jackets,
Joe Brucella, IE
Overall Chair
Class of 1972 50th Reunion Committee
​​​​​​​Class of 1972 50th Reunion Committee
LEADERSHIP
Joe Brucella, IE
Chair
Westbrook, CT
Walter (Steve) Metzer, PSY
Vice Chair
Little Rock, AR
Bob Gibeling Jr., BMGT
Social Chair
Atlanta, GA
AT LARGE COMMITTEE
Stan Baumgartner, BMGT
Portsmouth, NH
Rich DeMillo, ICS
Atlanta, GA
Bob Gibeling Jr., BMGT
Atlanta, GA
Jerry M. Goldstein, IE
Sandy Springs, GA
Bruce Grasso, IE
Hoover, AL
Stephen Hendrix, ChE
Savannah, GA
Kenneth L. Hamilton, IM
Alexandria, VA
William (Bill) Long, BMGT
Atlanta, GA
Charles (Butch) Price III, IE
Dunwoody, GA
Lee Gostin Robertson, IE
Augusta, GA
Robin C. Sickles, ECON
Houston, TX
Rush S. Smith Jr., PHYS
Atlanta, GA
William (Bill) Johnson Stanley III, ARCH
Atlanta, GA
Meade Sutterfield, EE
Atlanta, GA
Joe L. Trantham, EE
Panama City, FL
Johnny Walton, CE
Mobile, AL