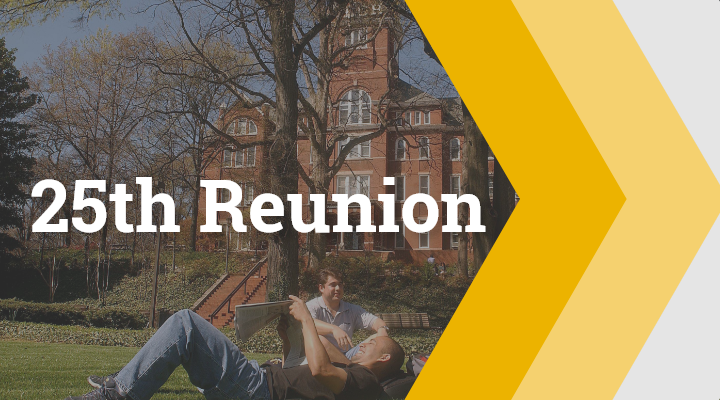 The Class of 1997 is turning 25!
To celebrate our milestone reunion and pay tribute to our time at Tech, we're going to help future Jackets with a swarm of support. We're counting on The Class of 1997 to give. Let's show our support of future Jackets and make this milestone reunion one for the ages!
*To access the questionnaire, you will be asked to register or login with your GT Account credentials.

It's your reunion year! That means it's time to catch up with your
classmates in the pages of your new Reunion Class Book.
Learn more about your Reunion Class Book


Dear Jackets,
Can you believe it's been twenty-five years since we got out?  I am looking forward to celebrating our 25th class reunion during Homecoming & Reunion Weekend on October 6-8, and I hope you've made plans to attend. It's not a moment too soon to start making plans to come back home.  It's time to celebrate!
As a member of the Class of 1997 25th Reunion Committee, I invite you to come back to Georgia Tech this fall for our 25th reunion activities during Homecoming & Reunion Weekend. There will be events for you and your family.  There will be campus bus and walking tours, seminars, and the President's update on Friday. This year, our class reunion party will be on Friday evening as part of Buzz Bash! On Saturday, you can enjoy the Cake Race, Ramblin' Wreck Parade, Ramblin' Reck Rally Tailgate on Tech Green and of course, watch the GT Yellow Jackets take on the Duke Blue Devils. Online registration for these events will open in August.  Stay tuned. 
Homecoming & Reunion Weekend is a longstanding tradition at Georgia Tech. In addition to coming home to Georgia Tech to visit with classmates and friends, that tradition includes making a 25th Reunion gift to our alma mater. Our reunion committee has set a class reunion fundraising goal of $2.5M and we invite you to join our class in making a gift of any level to Georgia Tech in honor of this milestone reunion.
408 members of our class have already pledged over $1.8M so we are off to a good start.  In honor of our reunion year, the Class of 1997 25th Reunion Committee would like to invite more members of our class to participate this year. We need 600 donors to reach our participation goal of 22.5% from classmates who have not been engaged in the last 4 years.  Our first reunion year is a great impetus for participation.  This year also marks the start of Ma Tech's Capital Campaign.  If you give this year, you would be contributing to 3 initiatives, our class reunion fundraising goal, class participation goal and the Capital Campaign.
Fall will be here before you know it.  So, when online registration for Homecoming & Reunion events opens in August, "bee" counted for your first milestone reunion and register for our reunion party on Friday, October 7th.
I hope to see you in Atlanta this fall!
Clint Bailey
Overall Chair
Class of 1997 25th Reunion Committee
Class of 1997 Reunion Committee
LEADERSHIP
Clint Bailey, TE – Sandy Springs, GA (Chair)
Peter Stewart, CE – Alpharetta, GA (Vice Chair)
Caroline Chng Dunn, EE – Atlanta, GA (Social Chair)
Rebecca Curylo Strickland, ChE – Dunwoody, GA (Fund Co-Chair)
Tameeka Law Walker, ChE – Atlanta, GA (Fund Co-Chair)
COMMITTEE
Nathan Brewton, ME – West Newton, MA
Luke Davis, CE – Ellicott City, MD
Steven Girardot, ChE – Brookhaven, GA
Valori Skipper Harris, HTS – Monroe, GA
Jim Mason, IE – Atlanta, GA
Meredith Moore, IE – Roswell, GA